28-year-old Sidharth was determined to prove naysayers wrong and lose weight for better health after a scary medical diagnosis. To know how he did this, read his transformational story below:
Name: Siddharth Sharma


Occupation: Businessman
Age: 28 years

Height:5 feet 9 inches
Highest weight recorded:105 kilos
Weight lost:20 kilos


Duration it took me to lose weight: 75 days
The turning point: My health has not been in the best possible shape in recent years. In 2014, I fractured my right hand in a bad way, following which an iron plate had to be inserted in my right hand to improve functionality. Later, in 2016, I was diagnosed with Grade-3 fatty liver disease. This worsened my health and I started gaining weight rapidly. I was determined to lose weight and get fitter. However, someone once made a statement that I wouldn't be able to recover or lose weight easily because of my past surgery! I wanted to prove that person wrong. And guess what, I was able to do that!
My breakfast: I usually have my favourite, poha for breakfast along with a glass of buttermilk. I avoid adding potato while making the poha. If I feel hungry, I snack on some almonds.
My lunch: I like to have a serving of daal and vegetables with two chapatis(without ghee).
My dinner: For dinner, I avoid chapatis or rice. I just have a bowl of boiled daal, tofu or soya chunks.

Pre-workout meal: Bottle gourd juice makes for an excellent pre-workout drink.
Post-workout meal: I usually munch on a handful of nuts like almonds and walnuts.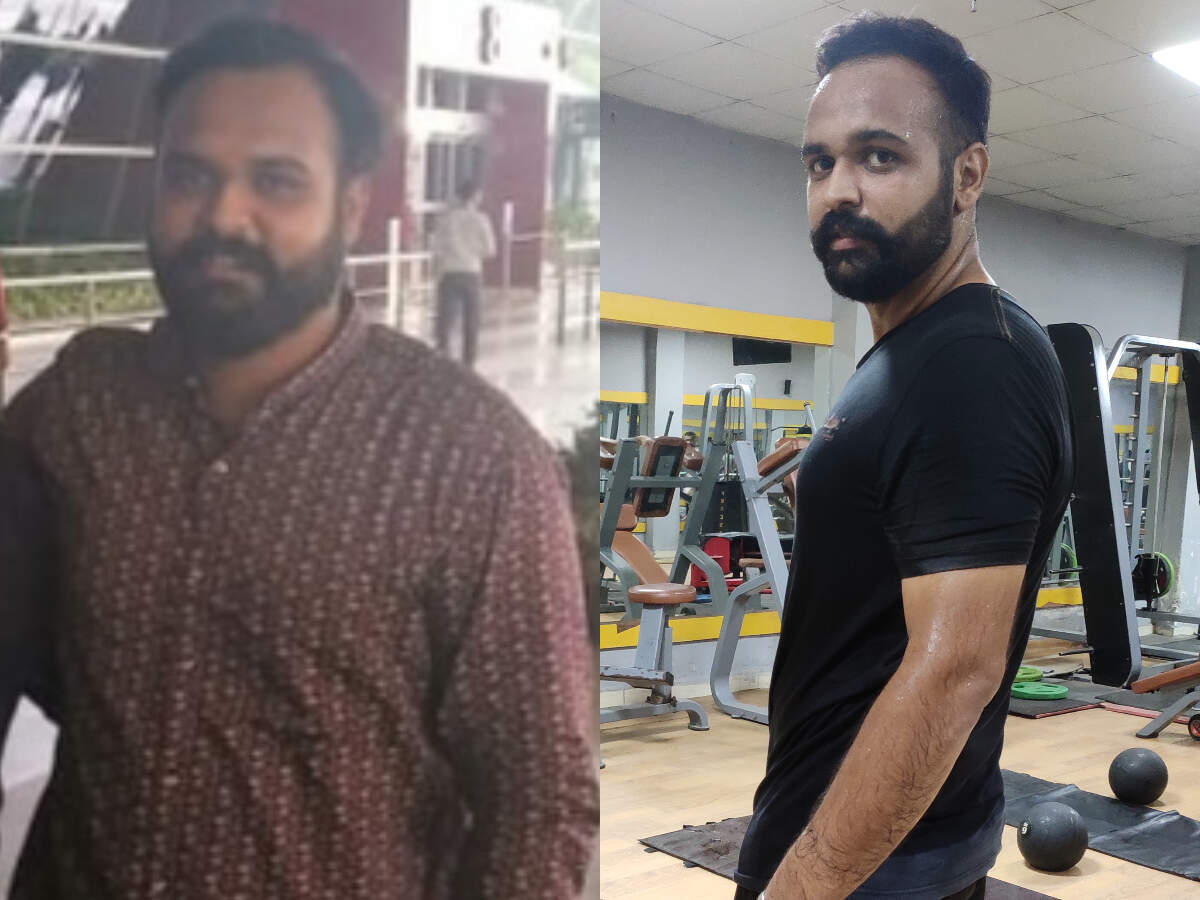 My workout: My exercise regime involves a mix of different calorie-burning workouts. It looks something like this:

-Morning nonstop jogging 7 km (45mins)

-30 minutes on the cross trainer

-20 minutes incline on the treadmill

-HIIT workout for 20 minutes, followed by 20 minutes of lightweight training, focussed on the abdominal exercises.
In the evenings, I spend 20 minutes on the treadmill, followed by the cross-trainer and pack in some basic lightweight leg workout exercises.
Low-calorie recipes I swear by: Poha with curd is light yet so refreshing. I can have it anytime!
Fitness secrets I unveiled: Losing weight is not short term and involves both diet and workout modifications. If you miss out on either of the two, the journey won't be a fulfilling one.
I do not believe in the concept of cheat meals. I take pride in the matter that I haven't cheated even a single day during my weight loss journey.


How do I stay motivated?

Weight loss is not as easy as it seems. There will be moments you will fail and then you start again. What I believe is that real failure is when you stop trying altogether. You have to pick yourself up and find a reason and a purpose to improve. This philosophy has worked out for me.
Once you start the journey and look different, you will be bombarded with comments and messages from people around you. This helps you stay focused on the goal in front of you.


How do you ensure you don't lose focus? Well, simply, the lifestyle I follow now doesn't actually allow me time to skimp or lag. I follow my diet and workout diligently. What I have achieved till now has also been good. So, this ensures that I don't stop or lose focus.


What's the most difficult part of being overweight? I was so heavy once, it was even difficult for me to bend down and tie my own shoelaces. Obesity also comes with its own health risks which make complicate life. This was very difficult and took a toll on me.
What shape do you see yourself 10 years down the line? I want to remain just as fit and healthy as I am now and also try to help other people who are battling weight issues.


What are the lifestyle changes you made? I made several changes to my lifestyle for which I am grateful. Here are some of these:

1. Sleeping and waking up on time.

2. Taking meals on time and keep a gap between their timings.
3. Shunning all types of junk food and sweets.

4. Drinking plenty of water throughout the day (at least 2-3 litres)
What was the lowest point for you? Health issues made me suffer a lot. I displaced and fractured a part of my right hand in 2014 and then later, I was diagnosed with fatty liver disease, that too grade-3.


Lessons learnt from weight loss: There will be a lot of people trying to pull you down and pass judgments, make you feel bad. You have to stay away from all kinds of negativity and people who try and distract you from working on your goals. Once you set out to achieve your targets, nothing can stop you.
For those like me who are working on themselves, I would like to tell them not to give up. Quitting midway is the biggest mistake you can do.
If you too have a weight loss story to share, send it to us at [email protected]