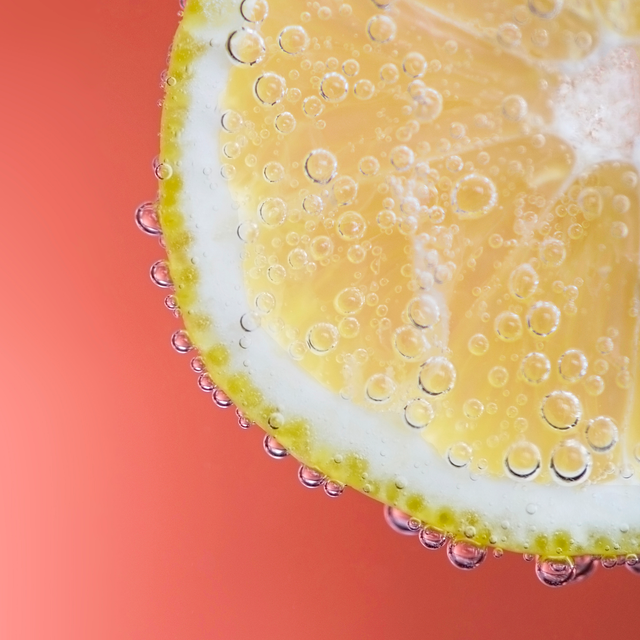 PhotographyByPiaGetty Images
If you have a hard time guzzling enough water throughout the day, consider adding some fresh fruit to your bottle. You won't get the same benefits as eating whole, antioxidant-rich oranges, strawberries, and lemons, but your H20 will get a boost of flavor (and maybe a small amount of those lingering nutrients from the juice), inspiring you to drink more if you're trying to wean off of those sugary drinks.
"The benefits of drinking fruit-infused water are the same as drinking regular water: Doing so helps you get more hydrated," says Amy Gorin, M.S., R.D.N., a plant-based registered dietitian and owner Plant-Based Eats in Stamford, CT.
And that can only do your body good. "The human body is about 60% water and needs to be continually hydrated throughout the day to function optimally," Gorin explains. That can translate to better digestion, more energy, stronger workouts, and fewer headaches. (Increased thirst, dark-colored urine, dry skin, constipation, muscle cramps, and fatigue are all signs of dehydration, meaning you should be refilling your bottle pronto.)
There isn't a universal recommendation on how much water to drink in a day, because it totally depends on your overall health, the temperature, and whether or not you're exercising. General rule of thumb: Sip when you start feeling thirsty.
If you're set on adding fruit to your water bottle, look for one with a wide enough infuser to effectively separate your water from, well, everything else. Plus, a removable infuser makes cleaning a breeze. Ready for some naturally sweet sips? Ahead, check out the best fruit infuser water bottles to boost your hydration game:
Advertisement – Continue Reading Below
1
Best Overall
Fruit Infuser Water Bottle
Hydracy
amazon.com
$17.97
This top-rated, BPA-free bottle has a long, twist-on infuser, so you can add in a generous amount of various fruits. We love its ergonomic design and the timeline markers that help you track how much water you've had before refilling. That's accountability!
2
Best Value
Sport Fruit Infuser Water Bottle
Stay hydrated with this best-selling fruit infuser bottle, which boasts more than 5,000 reviews on Amazon. This large, 32-ounce water bottle has a leak-proof design, a push-top lid, and anti-slip grip features, making it perfect for athletes or anyone on the go. As a bonus, it's made with BPA-free material and comes with a cleaning brush—all for under $15!
3
Best Glass Bottle
Wayfarer Fruit and Tea Infuser Water Bottle
The stainless steel infuser of this bottle allows you to add fruity flavors, while the replaceable strainer also steeps tea leaves. With the double-walled glass design, stains and odors don't stand a chance. Plus, you can fill this bottle with cold or boiling water. Hot water with lemon? Yum. 
4
Best Stainless Steel Bottle
Chicago Fruit and Tea Infuser Water Bottle
Groshce
amazon.com
$29.99
Keep your drink ice cold with this insulated fruit infuser water bottle. The stainless steel construction keeps water cold for up to 24 hours and hot for about 12 hours. The long infuser is great for adding larger pieces of fruit, and it also comes handy with a tea infuser.
5
Easy-to-Clean Bottle
Fruit Infuser Water Bottle
Infusion Pro
amazon.com
$20.99
If you hate the clean-up of a fruit infuser bottle, you're going to love this pick. The infuser is located at the bottom of this bottle, allowing ingredients to soak without seeds or pieces of fruit getting stuck in the mouthpiece. 
6
Large Infusion Water Bottle
Half-Gallon Fruit Infuser Water Bottle
Xbottle
amazon.com
$18.99
Perfect for athletes, this bottle naturally sweetens your aqua and holds a crazy amount of water—we're talking 84 ounces of H20! You probably won't need a refill anytime soon. It has a thick, ergonomic handle to withstand the water's weight, time markers to encourage you to drink, and a leak-proof design due to the sealing ring. 
7
Best Slim Design
Stainless Steel Fruit Infuser Water Bottle
Thanks to a clean, stainless steel look and the peep of glass revealing fresh fruit, this 16-ounce bottle is a beauty. It keeps water cold for several hours and has two filters to ensure you get the best flavor possible.
This content is created and maintained by a third party, and imported onto this page to help users provide their email addresses. You may be able to find more information about this and similar content at piano.io
Advertisement – Continue Reading Below