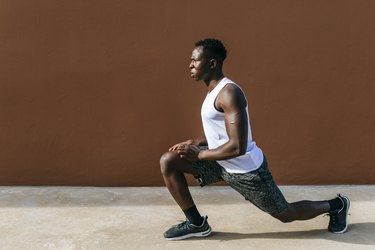 After spending a week or two in bed with the flu, you may be eager to get back to your usual exercise routine. But before you dive into your favorite HIIT workout, ease your body back into things with some gentle movement.
How soon can you exercise after being sick? There's no set amount of time you need to wait but it's probably best to hold off until you're free of fever, muscle ache and/or bad coughing. Pushing through the flu can delay your recovery, keeping you out of commission even longer.
This 20-minute strength and mobility routine is the perfect place to start once your symptoms recede, according to physical therapist and strength and conditioning coach Melissa Garcia, DPT, CSCS. While Garcia does provide a recommended set and rep scheme for each exercise, listen to your body and take as many breaks as needed.
Tip
This one is a tough plank variation. Try your best to hold the bear plank for the full 20 seconds, but you can also tap your knees down for a few moments whenever you need a break.
Tip
Beginners can try doing this for 30 seconds and working up to 60.
Tip
Focus on rotating through your upper back away from the front leg, Garcia says.
Tip
Slowly lean in and out of this position as your hips start to loosen up, Garcia says.