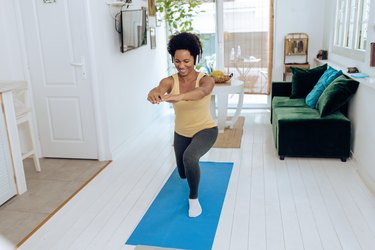 In an ideal world, we'd all be playing our favorite music aloud while working out. But as fellow rock fans will agree, most other housemates don't always appreciate the nuances of Metallica on full blast.
Investing in a solid pair of noise-cancelling headphones or earbuds is the next best thing. These trainer-approved options are the best for your at-home training sessions — no distractions, guaranteed.
A staple in home theaters and luxury cars, Bose makes some of the most popular sound systems — and their noise-cancelling earbuds are no exception.
New York-based certified personal trainer Noam Tamir, CPT recommends the Powerbeats Pro earbuds for intense, movement-heavy workouts.
This pair's flexible ear hooks are meant to move with you. So even if most buds don't stay put in your ears, there's a very good chance these will. You can choose from several ear tips to customize the fit.
"The sounds is great and volume goes up high, [which means] they are great at canceling out noise," Tamir says. "I've never had an issue with them due to water damage — and I can get sweaty. I haven't had a different pair of headphones in 2 years."
These Airpods guarantee no distractions during your workout, thanks to their Active Noise Cancellation feature. But if you're running on the street, you can stay safe by tapping and holding the side sensors to activate Transparency Mode, which lets in surrounding sounds.
And if you're wondering, "Are they really better than the original Airpods?" Our sources say yes.
"I definitely prefer the pro Airpods because of their little silicone tips," says New York-based certified personal trainer Carolina Araujo, CPT. "They sit in my ear more comfortably and stay in place during my harder workouts."
Their compact size and design is also fabulous. When you put them in your ears, they feel practically weightless, according to New York-based certified functional strength coach Tatiana Lampa, creator of the Training with T app.
3. Bose QuietComfort Earbuds
Bose is back with more workout earbuds, and they're a favorite of New York-based certified personal trainer Mathew Forzaglia, CPT.
Equipped with Bose Acoustic Noise Cancelling, they register background sounds and actively cancel it out as you listen to your music or podcasts. You can even customize how much noise they block.
4. Beats by Dr. Dre Studio3 Wireless Headphones
If shutting out the world is your priority, it's hard to rival these cocoon-like over-the-ear headphones, Araujo says.
While most headphones hold around 9 hours of charge, these store 22. So, if you want headphones you can just toss in your gym bag for a week at a time, add these to your shopping cart.
Just keep in mind they're better for lifting sessions than for burpees. "When you start to sweat more or do a lot of plyometric or jumping work, they can slip off," she says
Fully wireless buds are convenient, but can sometimes fall out and roll away. These noise-cancelling earbuds are the perfect balance, offering a connecting wire without fully plugging into your phone.
"I like that they wrap around your ear so they don't fall off," Lampa says. "I would recommend the Powerbeats for high-intensity interval training (HIIT), since you're jumping up and down." Plus, their sweat-resistant design is another plus during HIIT workouts.
These offer 15 hours of life per charge, far more than your average pair of earbuds. And the customizable silicone ear tips help block out any background noise during workouts.