SALT LAKE CITY — Processed foods get a lot of flak. They're often defined by different rules, such as foods that come in a box, having ingredients you can't pronounce, having more than X number of ingredients or coming from the canned or frozen food aisles.
But is this criticism warranted for all processed foods? The answer might surprise you.
First, what exactly is a processed food? A processed food is any food that has been altered from its original, natural state. Processing is done for many reasons, including to preserve foods; make them easier to store; or to make them safe, edible or more enjoyable to eat. Processed foods are then broken into four different categories:
Unprocessed or minimally processed foods are natural foods altered in ways that do not add any new ingredients, but often involve removal of parts of the food, drying, roasting, boiling, pasteurization or freezing. These include foods such as milk, eggs and frozen fruits and vegetables.
Processed culinary ingredients are foods altered from their natural state to be used to prepare, season and/or cook foods for in-home or restaurant use. These include foods such as oils, butter, sugar and salt.
Processed foods are defined as foods altered through various preservation or cooking methods, often by adding salt, oil, sugar or other substances. These include bottled vegetables, canned fish, fruits in syrup, cheeses and freshly made breads.
Ultra-processed foods are "not modified foods but formulations made mostly or entirely from substances derived from foods and additives, with little if any intact (unprocessed or minimally processed foods)." The overall purpose of these foods is "to create branded, convenient (durable, ready to consume), attractive (hyper-palatable) and highly profitable (low-cost ingredients) food products designed to displace all other food groups." These food products are often packaged "attractively" and marketed as such.
While we should aim for less ultra-processed foods in our diets, eliminating any type of processed foods altogether is unrealistic for the majority of people.
Food processing is there for a reason and a nourishing, balanced diet can certainly include some processed foods. Canned tuna, yogurt, hummus or even a frozen entree meal aren't going to doom you to a life of health problems.
The main thing to keep in mind is that nutrition is not a black-and-white thing. There are a lot of in-between areas where many foods can fit, especially when moderation is kept in mind.
Here are 11 dietitian-approved processed foods that can be a part of a healthy, balanced diet.
1. Nut butter
A staple in many kids' diets are peanut butter and jelly sandwiches, so it goes without saying that nut butters are a favorite food for kids and adults alike, including registered dietitian Jennifer Fiske.
"Almond butter is probably my favorite processed food, first and foremost for the flavor," Fiske said. "Additionally, the protein and fat content are great for satiety, and it pairs nicely with carbs for a balanced meal/snack."
Fiske said many people are already familiar with peanut butter, and almond butter is a nice option to change things up. She recommends using it as a topper for toast at breakfast or snack time, stirred into plain yogurt, or as a dip.
"Most recently I've been baking with it for a different flavor and moisture profile," she said. "My son also loves it with fruit — quick and easy!"
Choosing a "natural" nut butter variety with no added sugars or oil is a great option.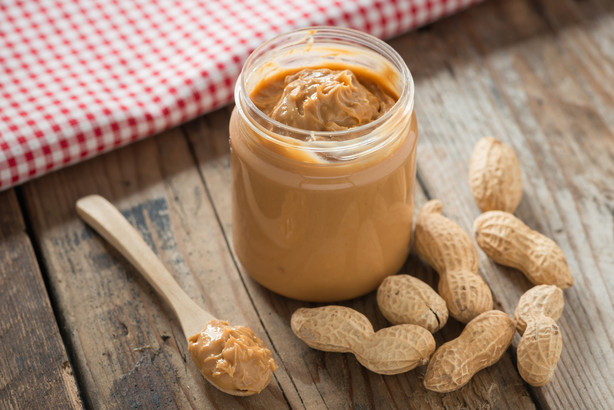 2. Canned tomatoes
Registered dietitian Melissa Nieves recommends canned tomato sauce for its versatility, long shelf life, and for being budget-friendly. In Puerto Rico, where Nieves lives, it's a staple for stewing beans and rice, as well as a sauce and soup base.
"Plus, lycopene from tomato sauce is better absorbed than from fresh tomatoes, which makes it a healthy 'processed' option," Nieves said.
Tomatoes have many health benefits, such as being rich in vitamins and minerals, and they have been shown to improve heart health, bone health and reduce the risk of some cancers. The convenience of canned tomato products allows us to easily add a nutritious component to lots of meals. You can often find low sodium varieties at the store if you're concerned about sodium levels.
3. Frozen fruits and vegetables
Frozen fruits and vegetables are processed to preserve their nutrients, being picked at their peak of ripeness and frozen to ensure they're just as nutritious — if not more — than fresh fruits and vegetables, explained Shahzadi Devje of Desi~licious RD.
The registered dietitian loves using frozen fruits and vegetables because they're quick, easy, nutritious and perfect for busy cooks or those struggling to get to the grocery store on a regular basis for fresh produce.
Registered dietitian Megan Byrd also points out that frozen vegetables are typically more budget-friendly than buying all fresh and can easily be incorporated into a healthy diet.
"You get all the nutritional benefit from them without having to buy fresh veggies," Byrd said.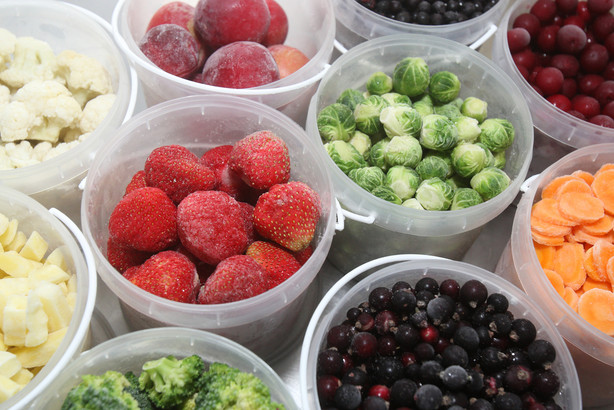 She went on to say that they make a great option, especially in the winter when fresh produce is less available and usually more expensive.
Both Devje and Byrd emphasize the versatility of frozen fruits and vegetables, sharing many of the endless ways to enjoy them including adding to a salad, blending into a smoothie, making fruit "nice" cream, mixing in curries, soups, stews and stir-frys, or simply enjoying as is by heating in the microwave, on the stovetop, or roasting them in the oven.
Opt for those that have only the fruit or vegetable as the ingredients, with no added sugars or sauces.
4. Rotisserie chicken
In a time crunch? Stop by your local supermarket for a roasted cooked chicken, recommends registered dietitian Chelsea Cross.
"Many people forget about these, but I haven't had to meal prep a chicken in years," Cross said.
A store-bought rotisserie chicken is roasted and cooked similar to how you would cook it at home — except you don't have to do the work, Cross explained.
"There is nothing wrong with someone else cooking it for you," she said. "In addition, those chickens are often cheaper than buying raw chicken breasts that I then have to cook."
Simply remove the skin when you get home and you have some extra protein on hand that can be added to just about anything, such as casseroles, soups, tacos, pasta, made into sandwiches, used as pizza topping and more. The options really are endless.
5. Milk
You might not think of milk as being processed, but since most of the milk we consume today has been pasteurized to remove harmful pathogens it is technically processed. That's a good thing, however, as pasteurization makes it safe to consume. Milk is a good source of protein, zinc, calcium, potassium and vitamins A, D and B12.
Milk is also homogenized to keep it from separating and has vitamin D added, a nutrient that many Americans don't get enough of in their diet, said registered dietitian and online cooking teacher Judy Barbe.
"I take the convenience for granted, but I'm glad I'm not milking the cow!" she said.
Barbe said she and her husband enjoy a cappuccino every morning.
"I like the nutrients it provides. The protein and water help fuel my morning workout, and that cappuccino is a favorite part of our day," she said.
6. Chips
Potato chips are not something registered dietitian Bri Bell recommends eating every day. But in general, she said all foods can fit into a healthy diet — including chips.
"Every couple weeks I might get a craving for some regular flavored potato chips, and my craving is satisfied after I eat them," she said. "I believe it's really important to eat food for enjoyment as well as nourishment."
As an alternative to chips, registered dietitian nutritionist Sarah Gold Anzlovar recommends dried chickpeas as a crunchy snack.
"They are a favorite processed snack in our house. They're convenient, come in a variety of flavors, and are super satisfying," Anzlovar said.
Dried chickpeas are easy to take on the go and contain protein and fiber to keep you full between meals, she added.
7. Canned beans
Beans are a good source of plant-based protein, fiber, carbohydrates, vitamins, minerals and phytonutrients, which are beneficial plant compounds. You don't have to spend hours soaking and preparing dried beans to reap the benefits, either.
Canned beans are a favorite of registered dietitian Elizabeth Ward.
"They are delicious, inexpensive, convenient, versatile and shelf-stable!" Ward said. "I love them in chili, soups and stews, in quesadillas for a quick meal, on salads, and mixed with brown rice."
To offset the usually high sodium content in canned foods, opt for low- or no-sodium added varieties, or rinse the beans under clean water at home before consuming them.
8. Pasta
Pasta is a favorite food for many people, but it can often be associated with indulgence. This doesn't have to be the case. Pasta is an easy, inexpensive and versatile option that adds a host of nutrients to your diet, especially if it's a whole-grain variety.
Whole wheat pasta provides nutrients like fiber, manganese, selenium, copper and phosphorus to your diet. Adding vegetables and some lean protein to pasta is a simple and delicious weeknight dinner option.
Don't worry about missing out on pasta if you need to eat gluten-free. There are a variety of gluten-free pasta options available today. Registered dietitian Nicole Dell'Aquila recommends a grain-free pasta, such as Cappello's varieties.
"As someone who comes from Italian descent and as an adult discovered I have non-celiac gluten sensitivity, finding gluten-free pasta alternatives that remind me of the homemade pasta of my youth is a must!" she said.
---
I believe it's really important to eat food for enjoyment, as well as nourishment.
–Bri Bell, registered dietitian
---
9. String cheese
Registered dietitian nutritionist Sarah Schlichter of Bucket List Tummy recommends string cheese often as a high protein and portable snack.
"We usually eat it for on-the-go snacks, or it works great as an addition to kids' lunch boxes, especially kids who prefer to snack on mostly carbohydrate foods," she said.
String cheese isn't just for kids, though. Schlichter loves it for all ages because the mix of protein and fat helps keep you fuller for longer and, when paired with fruit or crackers, it's very satiating.
---
Good-tasting, easy food is less stressful and more enjoyable than equally easy food that we don't really like.
–Rebecca Clyde, registered dietitian
---
10. Frozen meals
A frozen meal every now and then isn't going to make or break your diet.
"Life is stressful enough on its own without adding food shame and guilt about feeling like you have to make everything yourself, avoid all processed foods, or feel anxious about food," said registered dietitian nutritionist Rebecca Clyde of Nourish Nutrition Co.
"I love DiGiorno pizza because it's so nostalgic to my childhood, and Urban Pie Pizzas, as far as frozen pizzas go," Clyde said. "I'm personally still exploring the prepared frozen/processed foods that I enjoy, and I recommend others do the same."
Clyde further explained that by figuring out what we like and why, we can all get satisfaction out of convenience foods and enjoy them more — even when we may still be experiencing any shame or guilt about eating convenience foods.
One of her main goals in letting people know it's OK to eat frozen meals is to reduce stress, she said.
"Good-tasting, easy food is less stressful and more enjoyable than equally easy food that we don't really like."
11. Bread
Registered dietitian Kimberly Marsh said bread is a favorite processed food at her house.
"I love the varieties of whole-grain breads we can find at the store," she said. "They stay delicious longer than homemade bread and are much more convenient."
Store-bought, 100% whole-wheat bread, and other whole-grain bread varieties are packed with nutrients, such as fiber, B vitamins, iron and potassium.
Marsh said her family often eats peanut butter and jelly sandwiches or toast with nut butter. Other ways to enjoy bread besides sandwiches include french toast, homemade croutons, making a pizza out of it, dipping it in soup, and topping it with eggs and/or avocado for breakfast or a snack.
---
---
Editor's Note: Anything in this article is for informational purposes only. The content is not intended, nor should it be interpreted, to be a substitute for professional medical advice, diagnosis, or treatment. Always seek the advice of your physician or other qualified health provider with any questions you may have regarding a medical condition; Any opinions, statements, services, offers, or other information or content expressed or made available are those of the respective author(s) or distributor(s) and not of KSL. KSL does not endorse nor is it responsible for the accuracy or reliability of any opinion, information, or statement made in this article. KSL expressly disclaims all liability in respect to actions taken or not taken based on the content of this article.
×
Related Stories
More stories you may be interested in